Yours Celestially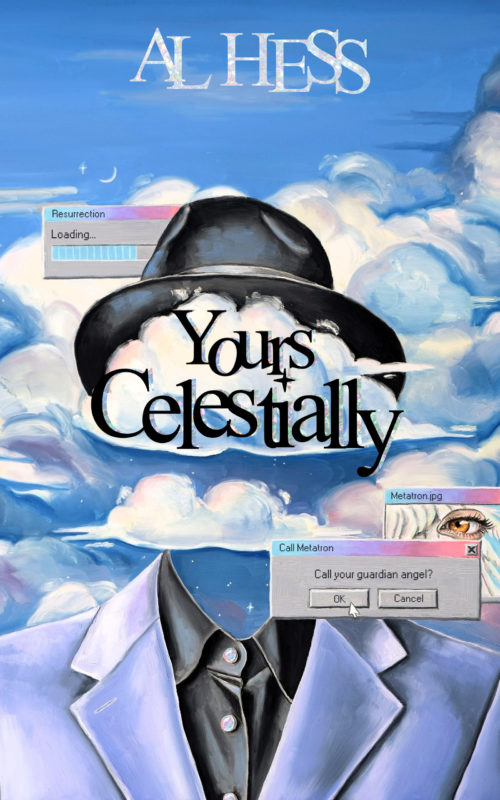 Sasha didn't have playing wingman to an actual winged being on his bingo card, but the angel's lovesickness is lingering in his own stomach, and he's willing to go great length to help him make a move on his crush—including risking a love of his own.
Order Now!
About the Book
After divorce, death, and having his reformatted soul uploaded into a new body, Sasha expected resurrection to be a fresh start. His time spent in digital Limbo with the program's cheeky AI guardian angel, Metatron, was cathartic, but what good is a second life when he only sees his daughter on the weekends, he has all the same problems he had before he died, and he can't seem to shake the ache for the married life he lost?
If that weren't frustrating enough, a glitch in the program has given Sasha the ability to sense Metatron even outside of Limbo. And Metatron is in love. The angel's sickly-sweet yearning for one of the souls still in Limbo has turned Sasha's stomach into caramelized lead. It's hard enough to move on without someone else's feelings making the emptiness in his own life even more acute. Sasha didn't have playing wingman to an actual winged being on his bingo card, but he's determined to help Metatron make a move on their crush so he can get love off of his mind.
Sasha takes a job with the resurrection company in order to covertly contact Metatron. Except Sasha's new coworker, Mr. C, keeps showing up at the worst moments. The man is annoying, he's pushy… and he's incredibly hot. Sasha can't decide whether Mr. C wants to blackmail him or be his new BFF, but he seems to know things about Metatron and the resurrection program that Sasha doesn't. Getting close to him might be the key to solving Sasha's problem, but if he isn't careful, he's going to end up catching feelings of his own.
---
Representation
Sasha (MC): bisexual, ADHD, recovering addict

Metatron (MC): asexual panromantic, agender/trans masc-ish

Mr. C (LI): bisexual, multiracial (Latino/Black/Indigenous American/white), anxiety disorder, past trauma relating to physical injury

Rodrigo (LI): queer, Afro-Latino, autistic, anxiety
Other major rep: multiple gay characters; amputee with prosthetic arm (Ivan); genderqueer lesbian (Jack); biracial Black woman (Dusty); autistic (Gale); multiple characters who are Indigenous, multiracial, and POC
Content Warnings
Content warnings: 
past drug addiction (from futuristic "neural enhancement pins")

divorce

mentions of car wreck

multiple deceased characters residing in digital Limbo 

discussion of death, including suicide and self-harm

brief violence and blood

profanity

brief mentions of transphobia

mentions of Christianity and biblical iconography (seraphs, cherubs, etc.)

mild sexual elements

depression and anxiety

vomiting
Disclosure of Material Connection: Some of the links in the page above are "affiliate links." This means if you click on the link and purchase the item, I will receive an affiliate commission. I am disclosing this in accordance with the Federal Trade Commission's
16 CFR, Part 255
: "Guides Concerning the Use of Endorsements and Testimonials in Advertising."