Odder Still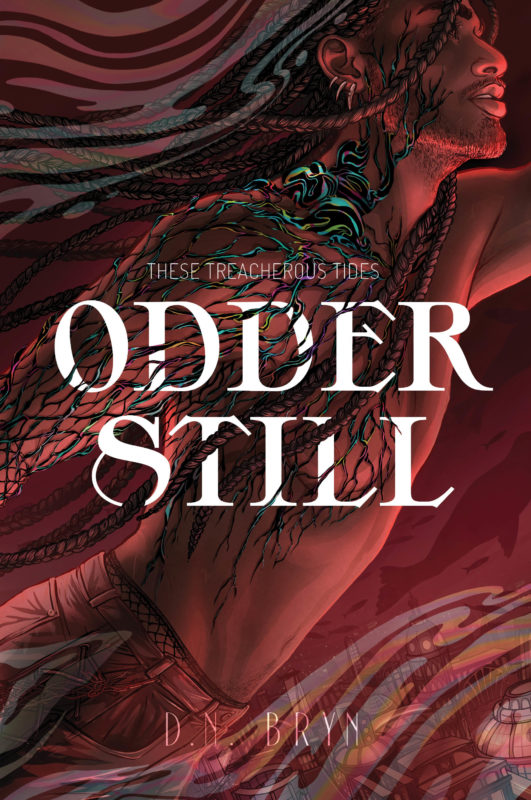 A M/M fantasy in which a lonely eccentric navigates an anti-capitalist revolution where both sides want to dissect him for the sentient parasite latched to his brainstem.
Rubem is plenty happy keeping to his wine, his pets, and his extensive collection of fishnets. But when a sentient parasite latches to his brainstem, he's forced out of his comfortable—if lonesome—life in search of someone in the nearby underwater steampunk city who can safely remove it. Here though, both the power-hungry rebels and the tight-gripped monopolies want to viciously dissect his parasite for its energy-producing abilities, and the only person offering him sincere help is the dashing and manipulative philanthropist selkie at the center of all the city's chaos.
Order Now!
About the Book
Rubem of No-Man's Land was content keeping to his wine, his pets, and his extensive collection of fishnets.
But since a sentient, fuel-producing parasite bonded to his brainstem, every morally-depraved scientist and hardcore rebel for a hundred miles wants to ruthlessly dissect him. The parasite itself is no better, influencing his emotions and sassing him with his own memories as it slowly takes over his body.
The only person offering Rubem help is Tavish K. Findlay, a dashing and manipulative philanthropist whose mother's fuel company monopolizes their corrupt underwater city with an iron claw. She desperately wants to tear Rubem apart for the parasite before those who oppose her can do the same. Her son is irresistibly charismatic though, and after a lifetime of being kicked out and disavowed, Rubem is desperate to believe in the friendship Tavish offers. 
With revolutionary plots and political schemes tangling his every choice, Rubem must soon decide whether or not to trust Tavish in his fight against the parasite's growing control.
---
Content Warnings
Alcohol consumption, alcoholism, and drunkenness (without alcohol-related anger or violence.)

References to a past violent pet death, and multiple instances of animal death, including those of cats and dogs.

General fantasy violence with minor fantasy gore.

References to feeling a parasite move inside the body of the point of view character. 

Near drowning.

Instances of severe blood loss due to scientific experimentation.

References to the dissection of a parasite from the main character's body.

Body horror of an aesthetically-pleasing, shimmering rainbow variety
---
Representation
Main character, Rubem: biracial Black man, gay, chronicly depressed, alcoholic, genderqueer (not explored until later books).
Love interest, Tavish: bisexual, trans man, blind, anxiety disorder, parental trauma (unrelated to gender or blindness).
Other majorly featured rep: wheelchair user, genderqueer, vaguely a person of color* (Elspeth); multiple non-binary characters, multiple character of color.
* characters labeled as "vaguely a person of color" are described as being non-white, but are never distigued enough to be understood as a specific race occuring in our world.
Other Books in "Aurora Cycle"
Disclosure of Material Connection: Some of the links in the page above are "affiliate links." This means if you click on the link and purchase the item, I will receive an affiliate commission. I am disclosing this in accordance with the Federal Trade Commission's
16 CFR, Part 255
: "Guides Concerning the Use of Endorsements and Testimonials in Advertising."