Once Stolen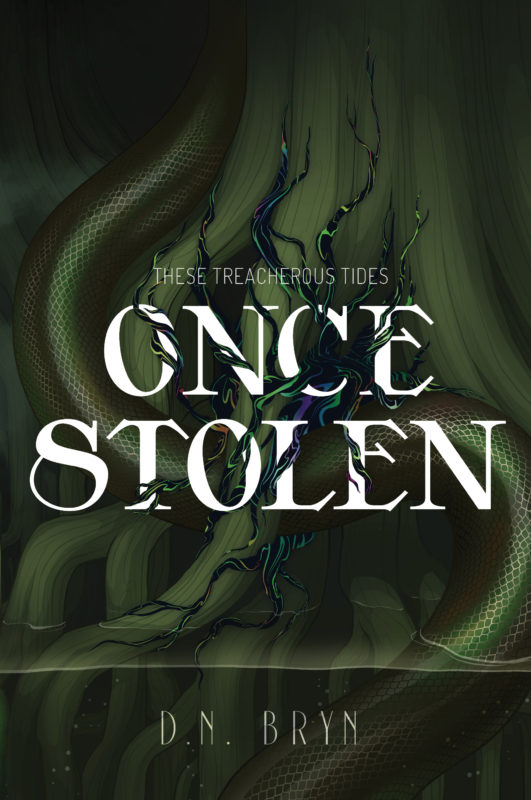 One autistic naga thief. One self-proclaimed hero. One wild, swampy adventure as they flee a cartel.
Return to Our Bloody Pearl's steampunk-inspired world of merfolk in this fun, fast-paced adventure with a hate-to-love romance, a boat-load of sass, and even more heart.
Order Now!
About the Book
No one with half a brain would rob the jungle's most notorious energy cartel—but their power-producing stones are the only thing that soothes Cacao's mysterious pain, and after being banished from his homeland for similar thefts, the lonely naga is desperate enough to try.
When his ramshackle thievery goes wrong, a chaotic escape leaves him chained to the cartel's prisoner: a self-proclaimed hero with a hidden stash of power stones so large that Cacao would never need to steal again. He's determined to get his hands on it, even if it means guiding the annoyingly smug, annoyingly valiant, and even more annoyingly beautiful hero back home. But their path runs straight through the mist-laden and monster-filled swamp that exiled Cacao, with scheming poachers and a desperate cartel leader on their tail.
The selfish and the self-righteous can only flee together for so long before something snaps…
---
Content Warnings
Cultural ableism, adolescent abandonment, two instances of animal injury and death, accidental house fire, kidnapping, secondary character drinking alcohol including non-violent drunkenness.
---
Main character, Cacao: pansexual, autistic, sensory disorder.
Love interest, Thais: nonbinary she/her, may be read as a person of color.
Other majorly featured characters: (Rubem) biracial Black man, homosexual, (Xera) vaguely a person of color, nonbinary, deaf, bisexual, social anxiety, (Fern) pansexual.
* characters labeled as "vaguely a person of color" are described as being non-white, but are never distigued enough to be understood as a specific race occuring in our world.
Other Books in "Aurora Cycle"
Disclosure of Material Connection: Some of the links in the page above are "affiliate links." This means if you click on the link and purchase the item, I will receive an affiliate commission. I am disclosing this in accordance with the Federal Trade Commission's
16 CFR, Part 255
: "Guides Concerning the Use of Endorsements and Testimonials in Advertising."