How to Bite Your Neighbor and Win a Wager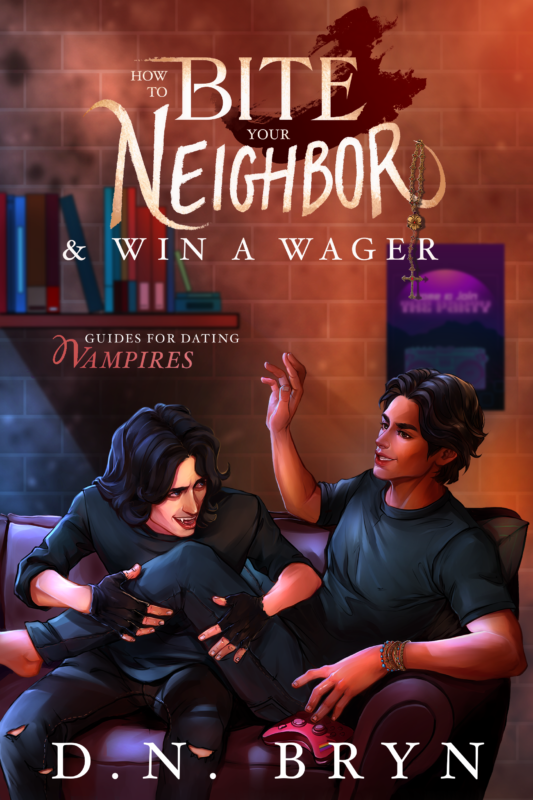 A slow-burn paranormal achillean romance full of laughter, angst, and thirsty pining.
Feed and get out—that's Vincent's moto. But when his latest snack is hot, funny, and begs to be bitten, he can't help double-dipping. Little does he know, the man has an ulterior motive: a murder to solve, and a vampire's life to trade for proof.
Order Now!
About the Book
Wesley needs a captured vampire to trade for proof of his mom's death, and the one biting him in his sleep should do nicely. 
But his plans are fuddled when this vampire turns out to be Vincent, Wes's shy childhood neighbor. To stop him from fleeing into the night, Wes has to offer his own neck on a silver platter. 
Vincent is more than Wes bargained for though: sweet, funny, and devastatingly handsome, with intoxicating fangs that awaken new desires in Wes. As he realizes just how little Vincent has—and how much they're both coming to rely on their not-so-fabricated friendship—he fears neither of them will survive the betrayal he has planned.
Tropes : vampire x human, bite kink, oblivious pinning, friends to lovers, imminent betrayal
Content Warnings : bite kink, bleeding (non-kinky), medical experimentation (not experienced by the POV characters)
Other Books in "Guides for Dating Vampires"
Disclosure of Material Connection: Some of the links in the page above are "affiliate links." This means if you click on the link and purchase the item, I will receive an affiliate commission. I am disclosing this in accordance with the Federal Trade Commission's
16 CFR, Part 255
: "Guides Concerning the Use of Endorsements and Testimonials in Advertising."