How to Sell Your Blood And Fall in Love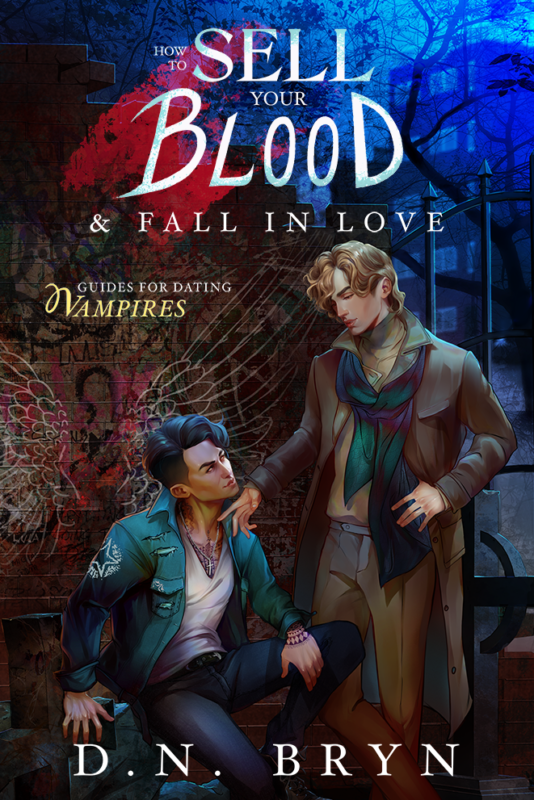 A slow burn achillean romance between an Ivy League a-spec vampire who's never been in love before and an inner-city man who's sworn off relationships for the last decade.
When Justin offers to sell his blood to a wealthy vampire, all he desires is the money it'll bring his inner-city neighborhood. What he doesn't want are the feelings that follow, or the fact that his new crush works for the people targeting the vamps of his community.
Order Now!
About the Book
"You have money, I have blood. How would you like to buy it?"
No romantic story has ever lived up to Dr. Clementine Hughes' reality but at least he has his steamy two-million-word fanfic and a prestigious research position at Vitalis-Barron Pharmaceuticals, where their benefits are superb and their experimentation on vampires highly unethical. When a mysterious accident turns Clementine into a vampire, discovery would demote him to lab rat and his growing thirst for his coworker's veins forces him to the streets to hunt.
Justin Yu is usually the one attacking villains in alleys, not the other way around. After the tragedy he brought upon his local vampiric community in his youth, he's struggled tirelessly to keep their vampires safe. So when a panicking Clementine botches a bite attempt, Justin takes pity—and advantage—and offers the vampire a trade: his blood in exchange for an exorbitant fee.
In desperation, Clementine accepts.
Justin's blood is bland and unappealing, but the more Clementine learns to appreciate the man's sharp humor and persistent compassion, the more he acquires a taste for Justin. Justin is determined not to let Clementine's good looks and thoughtful intellect distract him as hunters from Vitalis-Barron close in on Justin's neighborhood, and it turns out someone there knows Clementine's vampiric secret…
CONTENT NOTES:

General fantasy violence

Multiple memories and strong feelings of guilt related to the violent death of a parental figure

The near-continuous smoking of anti-pain meds for chronic pain

A reference to having been nonconsensually drugged

Explicit sexual acts (one scene)
REPRESENTATION: 
Main characters: pansexual, a-spec (demi/gray aro/ace), autistic, chronic pain, Filipino American
Side characters: trans, lesbian, queer, biracial Filipino
Other Books in "Guides for Dating Vampires"
Disclosure of Material Connection: Some of the links in the page above are "affiliate links." This means if you click on the link and purchase the item, I will receive an affiliate commission. I am disclosing this in accordance with the Federal Trade Commission's
16 CFR, Part 255
: "Guides Concerning the Use of Endorsements and Testimonials in Advertising."